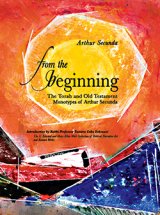 From the Beginning:
The Torah and Old Testament Monotypes of Arthur Secunda
Between 1993 and 2007, Arthur Secunda, an internationally renowned artist, created approximately 140 monotypes illustrating versus of the Torah and Old Testament. Monotypes are original paintings created on a non-absorbent surface which subsequently are transferred to paper in a printing/pressing process. Over 130 of these monotypes have been acquired by the Arthur Secunda Museum at Cleary University, Howell, MI. This is a full-color catalog of the Secunda Biblical narrative monotypes in the Museum collection. This artwork and book has been a collaborative effort of a Jew, Christian, and Muslim.
Book Description:
Artwork by: Arthur Secunda
Introduction by: Rabbi Dr. Tamara Cohn Eskenazi, The Effie Wise Ochs Professor of Biblical Literature and History, Hebrew Union College - Jewish Institute of Religion, Los Angeles, California
Dimensions: 10 x 13 inches
Pages: 148
Illustrations: 137 ( 130 full-page images)
Index: by artwork title
SBN (Paper cover) 978-0-87650-980-7
Published for the Arthur Secunda museum
Order all books directly from:
Arthur Secunda Museum at Cleary University, 3750 Cleary Drive, Howell, MI 48843
Web site www.cleary.edu/secunda
800.686.1883
Contact: Grace Farley
E-mail: gfarley@cleary.edu
Price: $39.95
Shipping (domestic, media rate): $6.00
---
The Arab-American Experience in the United States and Canada:
A Classified, Annotated Bibliography:
This bibliography is the first comprehensive attempt to identify, organize, evaluate and describe the extensive literature on the Arab community in the United States and Canada -- a particularly timely topic. The author, Michael W. Suleiman, spent twenty-five years compiling this immensely valuable resource.
Recent Library Literacy Resources
No. 36: Information Literacy and the Technological Transformation of Higher Education: Papers and Documents of the ACRL Instruction Section Think Tank III. These proceedings continue a long tradition of focused discussion on the future direction of library instruction in higher education.
No. 35: Reflective Teaching: A Bridge to Learning: Selected Papers Presented at the Thirty-First National LOEX Library Instruction Conference Held in Madison Wisconsin. This volume looks at the essentials of instruction: teaching and learning; and the integral step of self-assessment.
For further information on titles in this series -- or to print this poster -- please see Books :: Library Literacy.