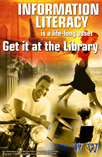 See: Videoclips: Teaching Information Literacy Is Like....
Introduction
The title of this record reflects the evolving conceptualization and names of what began a generation ago as "library orientation". Today, the word "library" -- as in library literacy -- is giving way to "information" in order to encompass the Web. And some institutions and individuals are striving to move beyond "information" -- toward knowledge -- by applying the phrase "critical reasoning skills" to their teaching efforts.
The Library Orientation Series covers it all.
Poster
View full-screen poster
Print PDF letter-size poster (2.67Mb)
Print PDF legal-size poster (3.28Mb)


The Library Orientation Series - Table of Contents
Note: Order three or more of the following titles -- at the same time, direct from Pierian Press -- and receive a 10% discount.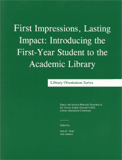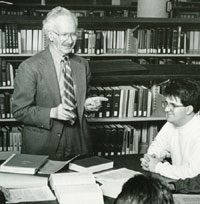 Earlier Volumes

Earlier volumes in the Library Orientation Series
Coping with Information Illiteracy:

Bibliographic Instruction for the Information Age
edited by Glenn E. Mensching, Jr. and Teresa B. Mensching
Library Orientation Series, No. 20
ISBN 0-87650-267-2
8 1/2 x 11, 202p, paper, 1990, $35.00
Reaching and Teaching Diverse Library User Groups

edited by Teresa B. Mensching
Library Orientation Series, No. 19
ISBN 0-87650-258-3
8 1/2 x 11, 165p, paper, 1989, $35.00
Defining and Applying Effective Teaching Strategies for Library Instruction

edited by Mary Beth Bunge and Teresa B. Mensching
Library Orientation Series, No. 18
ISBN 0-87650-252-4
8 1/2 x 11, 133p, paper, 1989, $35.00
Bibliographic Instruction and Computer Database Searching
edited by Teresa B. Mensching and Keith J. Stanger
Library Orientation Series, No. 17
ISBN 0-87650-251-6
8 1/2x 11, 173p, paper, 1988, $35.00
Teaching the Online Catalog User
edited by Carolyn A. Kirkendall
Library Orientation Series, No. 16
ISBN 0-87650-250-8
8 1/2 x 11, 256p, paper, 1988, $35.00
Marketing Instructional Services:
Applying Private Sector Techniques to Plan and Promote Bibliographic Instruction
edited by Carolyn A. Kirkendall
Library Orientation Series, No. 15
ISBN 0-87650-201-X
6 x 9, 168p, hardcover, 1986, $25.00
Bibliographic Instruction and the Learning Process:
Theory, Style, and Motivation
edited by Carolyn A. Kirkendall
Library Orientation Series, No. 14
ISBN 0-87650-182-X
6 x 9, 172p, hardcover, 1984, $25.00
Teaching Library Use Competence:
Bridging the Gap from High School to College
edited by Carolyn A. Kirkendall
Library Orientation Series, No. 13
ISBN 0-87650-145-5
6 x 9, 242p, hardcover, 1982, $25.00
Reform and Renewal in Higher Education
edited by Carolyn A. Kirkendall
Library Orientation Series, No. 10
ISBN 0-87650-124-2
6 x 9, 130p, hardcover, 1979, $25.00
Improving Library Instruction:
How to Teach and How to Evaluate
edited by Carolyn A. Kirkendall
Library Orientation Series, No. 9
ISBN 0-87650-109-9
6 x 9, 152p, hardcover, 1979, $25.00
Putting Library Instruction in Its Place:
In the Library and in the Library School
edited by Carolyn A. Kirkendall
Library Orientation Series, No. 8
ISBN 0-87650-092-0
6 x 9, 112p, hardcover, 1978, $25.00
Library Instruction in the Seventies:
State of the Art
edited by Hannelore B. Rader
Library Orientation Series, No. 7
ISBN 0-87650-078-5
6 x 9, 135p, hardcover, 1977, $25.00
Faculty Involvement in Library Instruction
edited by Hannelore B. Rader
Library Orientation Series, No. 6
ISBN 0-87650-070-X
6 x 9, 119p, hardcover, 1975, $25.00
Academic Library Instruction:
Objectives, Programs and Faculty Involvement
edited by Hannelore B. Rader
Library Orientation Series, No. 5
ISBN 0-87650-063-7
6 x 9, 75p, hardcover, 1975, $25.00
Planning and Developing a Library Orientation Program
edited by Mary Bolner
Library Orientation Series, No. 3
ISBN 0-87650-061-0
6 x 9, 72p, hardcover, 1973, $25.00
A Challenge for Academic Libraries:
How to Motivate Students to Use the Library
edited by Sul H. Lee
Library Orientation Series, No. 2
ISBN 0-87650-039-4
6 x 9, 100p, hardcover, 1973, $25.00