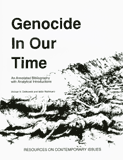 Genocide in Our Time:
An Annotated Bibliography with Analytical Introductions
by Michael N. Dobkowski and Isidor Wallimann
This thought-provoking title brings subject specialists together to address important, diverse aspects of genocide and provides selective, extensively annotated bibliographies of the major books, articles, studies, and government publications related to their topics.
In addition to the analytical essays and bibliographies (which contain almost 600 works), the volume includes a chronology of genocide, an author index, and a title index.
Genocide in Our Time contributes significantly to an understanding of contemporary genocidal atrocities and attempts to comprehend this phenomenon, both in its genesis and in its prevention.
"Highly recommended for all libraries."
-- Choice Magazine
Ordering Information:

Resources on Contemporary Issues Series, No. 6
ISBN 0-87650-280-X
200p, 8 1/2 x 11, paper, 1992, $40.00
(a textbook discount is available)